In 1944, two nuns from the Dominican Order at Adrian, Michigan, visited the Forestville area, driving from house to house with the help of Mrs. William Kopp and Mrs. Wilbur Wolfer, taking a census of Catholic residents. Ninety Catholic adults and children were identified. In response to this census, Archbishop McNicholas established a mission parish. The Archdiocese of Cincinnati purchased a large house on a nine-acre tract of land at 7820 Beechmont Avenue. The lower floor of this one-time residence of Carvil Hawkins was remodeled and the seven rooms comprising the downstairs living quarters were transformed into a T-shaped chapel, a sacristy, meeting rooms, and a temporary confessional. From time to time, the latter collapsed, exposing an embarrassed confessor and penitent.
Father Francis J. Heider, pastor of St. Thomas More Parish in Withamsville, was appointed pastor of this Catholic community, with temporary limits, taking areas formerly in Guardian Angels, St. Thomas More, and St. Jerome parishes. On September 17, 1944, Father Heider offered the first Mass at the newly created Immaculate Heart of Mary Church, with a capacity to seat 100 parishioners.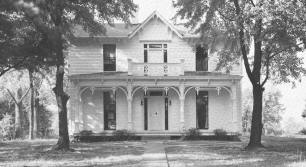 In 1945, when the war ended, the church began to expand, and a bus was purchased to transport the school children to St. Thomas More School in Withamsville. Father Heider planned to build a school in Forestville to accommodate the youngsters. Because of the expense, IHM sponsored a rodeo to raise the capital. Due to bad weather and other adverse circumstances, the rodeo was not a financial success. Undaunted, Father Heider planned joint ventures for his two parishes, IHM and St. Thomas More, employing his ingenuity and hunting skills to come up with intriguing festival fare such as bear steak, bear burger, moose dinners, and swamp rabbit. For the faint of heart, there was the traditional chicken or roast beef as well. As IHM grew steadily, it was decided to hold festivals and dinners in its own backyard, instead of the facilities at St. Thomas More. In 1946, the church hired a secretary and a driver for the school bus. Miss Adelaide Temmen handled both tasks easily.
With the baby boom and the brightening economic future, the Archdiocese granted permission for the people of IHM to construct a new church building on its 9-acre lot. Blueprints were drawn up in 1948, and the foundation for the church was laid the following year.
In 1949, Father Heider was relieved of his double duty as pastor of both this mission parish and St. Thomas More. Rev. Joseph Hageman was appointed as new resident pastor of Immaculate Heart of Mary. He held card parties and chili dinners in the two front rooms upstairs in the church. He improved on the chicken dinner theme by widely publicizing the "Forestville Style Chicken" and it became a local hit along with the festival's other featured attraction, John Hollkamp's "Talking mule," Francis.
Brother Bertrand Bailey, who had remodeled the first church structure, directed the building of a beautiful white frame church. On June 15, 1950, IHM's new chapel was dedicated. It could accommodate 500 parishioners – 350 in the main wing, and another 150 in the side wing extending from the rear of the building. This side wing was converted into a separate assembly room using accordion-style doors when needed. Two months later, the old church became the rectory, and Father Hageman and his mother were its first residents. With a priest in residence and a permanent church structure, Immaculate Heart of Mary was granted parish status with definite and permanent boundaries. Archbishop Karl J. Alter made the parish designation official in December 1950.
During the summer of 1951, aggressive expansion continued. The parish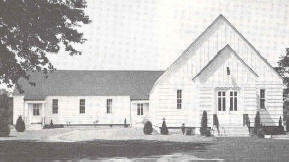 also acquired a six-room house and surrounding property at 1260 Columbus Avenue (today the parish office). This provided additional access to the existing property. Fundraisers were held throughout the 1950s in an effort to build a school. By the middle of the decade, the parish had raised enough support to build its own school. In 1955, the school opened its doors: a four-class-room building with a large activity room/cafeteria and outhouses. There was an initial enrollment of 159 students. Eight grades were divided between the four classrooms, grouped together by twos.
On April 15, 1956, the new school was dedicated, which was staffed by the Sisters of St. Joseph. The dedicated teaching professionals took up residence in the six-room house on Columbus Avenue. Parish fundraisers and parishioner contributions allowed an addition to the school in 1959: four more classrooms and a multi-purpose room. The women of the Rosary Altar Society continued fundraising efforts for the school, with a carnival being one of their projects. It continues to the present day as the annual school carnival.
After a period of declining profit, the annual IHM festival was discontinued in 1961. By this time, the parish had grown to 425 families.
On April 4, 1963, Father Timothy J. McNicholas was appointed pastor of IHM. Father David Fay later joined him as associate pastor.
In 1967, eleven more classrooms were added to the school in a separate building. The two school buildings were connected by a covered walkway. This expansion was necessary to accommodate the enrollment of 494 students. The addition, which was completed in time for the start of the 1967-68 school year, meant facilities for 20 classrooms, a cafeteria, library, and music room.
In 1972, Rev. William L. Schroeder became IHM's new pastor. His Associate Pastors were Fathers Dick Averbeck and Tony Backhoff. The parish was now 980 families strong. On June 7, 1973, Father Schroeder reinstated the Parish Council, which had been inactive for more than two years, to help share the responsibility for managing the parish. The Parish Council began by establishing a Communication Commission. By late 1974, a Worship Commission and Finance Commission were formed, and an Education Commission was planned. Under Father Schroeder, Parish Council established four other commissions: Community Affairs, Laity, Missions, and Ecumenism.
In 1978, the first issue of The Way (now the HeartBeat) was published.
Community growth necessitated a larger church. Since there was no space left on which to build, the rectory had to be removed from the property. Early October, 1978, telephone and utility crews escorted the historical old house down Beechmont Avenue to its new location on Forest Road and Pinewell Drive. The 1865 Victorian-style house was so large that its front was moved on one day, and its back half a week later. With the former rectory moved, Father Schroeder personally purchased a home a mile away to serve as home and office space for himself and Father Dan Conlon, the Associate Pastor (now Bishop of Joliet, Illinois).
On April 22, 1979, IHM had a ceremonial groundbreaking for the new church. In the same year, Baptism preparation classes and the Christmas "Giving Tree" program were instituted. By Christmas of 1979, construction of the new church was well underway, scheduled for completion in early 1980. On April 27, 1980, the new facility was dedicated. The new church now seated 1,200. A chapel seating 100 people was included with the reconciliation rooms. It connected with the nave and could be used as part of the general worship space. Once the white frame church was replaced by the new facility, it was christened Hageman Hall and became the site of the parish offices. When Father Jim Meade arrived in October 1981, the convent would be remodeled as living quarters for Fathers Schroeder, Conlon and Meade.
A weekly bingo game was started to provide some of the income needed to help meet the debt. In 1983, the Parish Festival was reinstated, and, most importantly, the Christ Renews His Parish retreat program began.
In 1984, Father Kenneth J. Czillinger assumed the duties of pastor at IHM. Father Ken was assisted in his efforts by his associate pastor, Father Dave Lemkuhl, and on weekends by Father Greg Friedman. In June 1983, John Glynn was assigned to IHM as our first deacon; followed by Deacon Gene Miller in July 1986 and Deacon Jim Woeste in February 1989.
By 1988, IHM was reaching more than 3,000 people attending Sunday Mass, providing religious education to 430 children who attended public schools, and educating another 500 plus in the parish day school. In 1988, Father Tom Brunner was welcomed as IHM's new pastor and Father Paul Friedrichs joined IHM as the associate pastor.
When Fr. Paul Friedrichs left the parish in July 1992, Deacon Gene Miller was hired as a Pastoral Associate, with the responsibility of directly assisting the pastor since we were no longer privileged with an Associate Pastor. In October 1994, John Glynn left our parish when he and his family moved out of state. In November 1994, Jim Sonnenberg joined our staff as a deacon with our parish, and in April 1995, Jim Woeste left when he and his family moved.
Fr. Tom Brunner expanded the capacity of the Parish School and oversaw a planning effort to build a new Parish Center including a gymnasium/auditorium and four meeting room/classrooms along with new school offices. He remained Pastor until June of 1995.
Fr. Jan Schmidt was welcomed as the new Pastor in July of 1995 and launched the building of the plan. Groundbreak was held in October and construction began in November. The new Parish Center which included four classrooms/meeting spaces, school/formation offices and a gymnasium with a stage opened in September of 1996.
Fr. Don West joined the parish in July 1996 as the Associate Pastor, teaching part time at McNicholas High School. When Fr. West was reassigned to St. Maximillian Kolbe parish in 1997, Fr. Michael Hay became our full-time Associate Pastor and the following year began teaching part time at McNicholas.
In September 1998, Deacon Jim Sonnenberg joined St. Gabriel. In the same month, the parish was blessed with the addition of three newly ordained deacons – Jerry Etienne, Bill Mullaney, and Dave Shea.
In July of 1998, we welcomed newly ordained Fr. Patrick Sheridan. He brought with him a relaxed attitude, along with a great deal of wit and charm for which many will remember him. He remained with the parish until June 2001 when he became the Parochial Vicar (formerly referred to as Associate Pastor) to St. Susanna in Mason.
Under the spiritual leadership of Fr. Jan, several programs were initiated which resulted in national recognition of our family formation ministry and a parish-wide pledge to become a stewardship parish. He encouraged lay ministry training at the Athenaeum and provided the opportunity for the congregation to benefit from the pastoral ministry of four deacons.
In 2000, The Way became the HeartBeat and we began mailing it to each parishioner six times per year. Parishioners continued to edit the paper and regular submissions reflected the deep love and support we express to one another in our daily life. Although the weekly bulletin continued to be the main avenue for communication, the HeartBeat was welcomed in parishioner homes and had become a popular forum for parishioner exchange and compassionate sharing of personal stories.
IHM had become the third largest parish in the Archdiocese and Fr. Jan led a charge to increase the parish tithe to the missions, managed finances well and decrease debt. At this point there were over 75 ministries led by parishioners, the weekly collections adequately met the need to expand their scope and growth steadily increased. New construction around the Township nurtured the feeling of excitement around our full faith life and we started our twinning relationship with our sister community in Batahola, Nicaragua. This expression of love and support led to several personal visits from members of our Social Ministries Commission, pastoral staff and parish youth.
Parishioners became eager to improve existing worship, formation meeting and educational spaces. Several committees gathered and met regularly to determine the path we were to take. A master plan was subsequently developed and the Vision for the Millennium capital campaign to address the three areas of Worship Space, Adult Community Space, Educational Space and Site Improvements was launched. The plan called for extensive remodeling and the addition of space to the church. The church would gain the much-needed larger gathering area, choir rehearsal room, hospitality area for weddings and funerals and a Eucharistic Reservation Chapel. Parishioner Jerry Willging, the original church architect, served on the Architectural Planning Committee to guide the remodeling efforts.
In August 2001, Deacon Gene Miller left IHM as Pastoral Associate to join St. Thomas More parish. In July 2001, Fr. Ron Piepmeyer became the new Parochial Vicar until the following year when he became pastor of St. Boniface in Piqua. After several stressful weeks, wondering if we would be privileged to have another priest assigned to assist with the workload, Fr. Bernie Weldishofer was assigned to the parish in August 2002.
Breaking ground on June 24, 2002, the building project also included full renovation of the 1955 and 1962 education buildings, more secure administrative area for School and Formation personnel, a banquet hall for adults, totally new kitchen and four classrooms to accommodate the three fourth grades back into the main school space. Full replacement of the HVAC system to provide air-conditioning throughout those hot summer religion program months was a major benefit to this project. The education buildings would now house a primary building, a middle school building and a junior high building. The property to the east of the church, known as the Annex, where the three fourth grades had been housed, would become adult formation space and a childcare facility.
Since renovation of the school building and its additional facilities were not completed by the beginning of the 2002-03 school year, the seventh and eighth graders opened the school year in temporary classrooms at Comboni. In January 2003, the school renovation was completed, the building was dedicated on January 28, 2003, and all classes resumed at IHM.
In January 2003, Deacon Jerry Etienne left IHM to join St. Mary's in Bethel as Director of Religious Education.
The renovation of the church was completed in July 2003 and rededication ceremonies were held on July 26, 2003.
Fr. Bernie was called to be pastor of St. Francis de Sales in Lebanon and left IHM in November 2003. Dave Shaffer was ordained to the deaconate on April 24, 2004 and was assigned to IHM. After his ordination, Fr. Ed Burns was assigned Parochial Vicar of IHM in July 2004.
In July 2006, Fr. Ed Burns was assigned Associate Pastor at Ascension Church in Kettering and Campus Minister at Wright State University in Kettering. At that time, Fr. David Howard was assigned as Parochial Vicar at IHM.
After 13 years a Pastor of Immaculate Heart of Mary, Fr. Jan Schmidt was assigned as Pastor of St. Margaret of York in July 2008. Fr. Tom Kreidler was assigned as the new pastor of IHM. At the same time, Fr. Howard was assigned to Sts. Peter and Paul as Pastor and Fr. Rey Taylor became the new Parochial Vicar.
In the summer of 2008, the Boosters extended the football field and added 2 new goal posts and a new scoreboard sign. In September 2008, the Boosters dedicated the new scoreboard in honor of Jim Bolger.
In November 2008, we began a twinning relationship with a small log cabin church in Stanton, Kentucky. Our Lady of the Mountains church has 36 registered families and Fr. Tom's sister, Sr. Mary Jane Kreidler, is their Parish Life Director. We started this relationship by collecting donations for a Thanksgiving dinner for the poor in their parish and by spending a day there helping to serve these people.
The inaugural Winter Gala was held in January 2009 under the direction and coordination of Fr. Tom and Angie & Dave Ficker. This event has become an evening of fun for the parish community as well as an opportunity to raise money through an auction.
The following year, Fr. Rey was assigned as Pastor at St. Joseph parish, and in July 2009, Fr. Robert Hadden became the Parochial Vicar at IHM.
During the summer of 2010, the Annex Building was converted into three classrooms for the addition of Kindergarten for the 2010/2011 school year.
In April 2010, IHM was blessed to have three of our parishioners ordained to the diaconate – Mike Cassani, Russ Feldkamp, and Mark Johnson.
In December 2010, Fr. Robert went on an administrative leave.
We were able to create and open 3 Kindergarten classrooms in the red brick annex in August of 2011 and the classes immediately filled, with a waiting list our first year. Our kindergartners were here all day participating in all the extra activities that the grade school students did. They joined the school community each Thursday for our all school Mass accompanied by their adult buddies.
In 2011 IHM was presented with a wonderful opportunity to expand our campus by purchasing the medical building on the south west edge of our property. That opportunity allowed us to grow in wonderful ways.
On July 1st, 2011 Fr. Adam Puntel was assigned as our new Parochial Vicar. After three years of beards, music and Thomas Aquinas, Fr. Adam's term ended in July of 2014, and he was assigned to teach at Fenwick High School while helping at Holy Name Parish in Trenton, OH. We welcomed Fr. Ron Williams in July 0f 2014.
Through 2010 until the present there have been many changes seen on the campus. We have had wonderful Eagle Projects that have made some beautiful and prayerful improvements to our property.